Congratulations Mr. Kazuyoshi Takahashi The Hikari Legacy of Excellence Continues…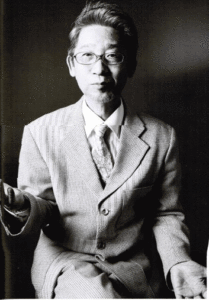 We are pleased to announce that Kazuyoshi Takahashi, President of Hikari Japan, has been named one of the 100 most influential people in Japan's beauty industry.  Furthermore, he was the only member of the scissor industry to receive this distinguished honor.
Shown here in a photo from the Japanese magazine Kamikesho (Vol. 69), Kazuyoshi-san attributes this acclaim to his father, who instilled in him a boundless passion for the beauty industry and zeal for creating the ultimate haircutting tools.
The prestige of Hikari scissors is a testament to three generations of commitment to excellence:  the founder, his son, and his grandson.  Kazuyoshi-san is the son of Hikari founder Fukutaro Takahashi and father of Shinichi Takahashi, the future leader of Hikari.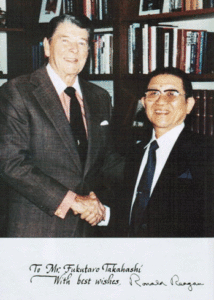 The Legacy began with Mr. Fukutaro Takahashi,  a champion hairdresser who in his quest for the ultimate haircutting tool comprehensively analyzed hair structures and metals and experimented with scissor design for several years.  In 1968, he made the very first pair of Hikari scissors and soon thereafter invented the Precision Convex Edge, which revolutionized the concept of cutting sharpness, accuracy and durability.
In this 1989 photo, President Reagan is congratulating Mr. Takahashi for being named one of the top businessmen in Japan.  Mr. Takahashi's innovative scissor designs garnered worldwide attention and began setting the standard for tools in the industry.
Mr. Takahashi believed that his in-depth, firsthand experience as a hairdresser enabled him to develop scissors that truly met the needs of all stylists.  This philosophy is fostered at Hikari, the only scissor manufacturer founded and led by a hairdresser. Today, this tradition continues to live on with Kazuyoshi and his son Shinichi.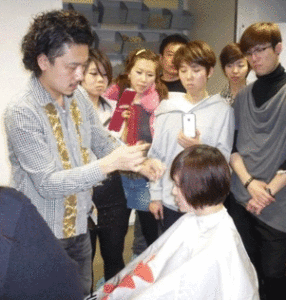 Shown in this photograph is the third generation of Hikari excellence, champion hairdresser Shinichi Takahashi teaching a class in Russia.  Shinichi-san, like his grandfather and father, has an unwavering commitment to artistry and perfection. Together with the team of Hikari expert craftsmen, he is pioneering techniques and tools that enhance the precision and ease of haircutting.