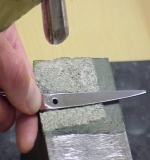 HKR/Hikari Scissor Factory is the ONLY Factory Authorized Service Center for Hikari Scissors in North America.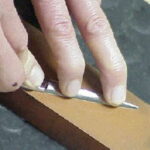 As the ONLY Factory Authorized Service Center for Hikari Scissors in North America, our technicians are professional craftsmen, factory certified in the "Art of Making" Hikari Scissors. Our stringent quality assurance procedures insure that the sharpness, accuracy and performance are restored to your scissor, each and every time they are serviced.
Hikari scissors are made with the Precision Convex Edge
Q. What is the Precision Convex Edge?
A. The Hikari Precision Convex Edge combines a hand-buffed outer blade with a hollow ground (concave) inner blade. Both blades are polished by hand to razor sharpness. This edge has no serrations or conventional outer edge bevel or grind, making Hikari scissors the most accurate in the world. Many companies claim to have a Convex Edge but they do not have the same angle and consistency from pivot to tip. That is why customers continue to tell us that "nothing cuts like a Hikari."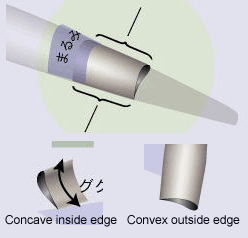 Other sharpeners may claim that they are certified to service Hikari scissors, but they are not!
We do not have a certification program that we offer. Typical sharpeners will use different machinery and possibly abrasives that are too harsh for haircutting scissors. Most sharpeners also do not have the experience and training in restoring a true Hikari Precision Convex Edge. This results in a damaged scissor that no longer performs like new. Note: In order to restore a Hikari scissor to factory conditions, that has been damaged by incorrect sharpening, corrective work is required at an additional cost.
(See below examples of the Hikari Convex Edge, verses Other Sharpeners Blade Edge).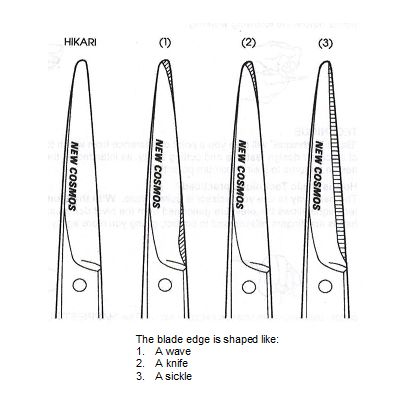 Note: You will never see an authorized Hikari sharpener working from a van or truck.
With the exception of some trade-shows, all of our technicians sharpen at HKR/Hikari Scissor Factory in Gardena, California.
Q. Why don't my Hikari scissors feel the same after sharpening?
A.  When someone other than a Hikari technician has sharpened your scissors, they will most likely have a slightly different blade angle than the original Hikari design. You may notice that you need to apply thumb pressure to get them to cut. Often times, the scissor will not cut as "smooth" and accurately as it did when it was new. Occasionally you will find that you now have a bevel on the outside edge of your blade (see picture on the right), much like a paper cutting scissor. Most of the time, it will be difficult to see the damage that has been done with the naked eye. However, you will definitely feel and experience the difference.

Q. Why are the tips of my scissors so thin and why are they getting dull so quickly?
A. When someone other than a Hikari technician has sharpened your scissors, they can take quite a bit of metal off the blades and therefore the tips will become very pointy. Scissors with pointier tips will lack power and dull very quickly. They may seem sharp and great for the first few weeks and then they will start to push towards the tips. This is not a sign of a low quality scissor, it's a sign of a low quality sharpening job. Note: Most sharpeners remove more metal than necessary when sharpening your scissor. This will greatly reduce the lifespan of your scissor.
Q. My scissors don't hold their tension, but I just had them sharpened a few weeks ago.
Even after tightening the screw, the tension will continue to loosen.
A. Hikari scissors have a very small washer in the pivot area. Sometimes when someone other than a Hikari technician sharpens your scissors the washer can break or fall out and get lost. Without a washer in the pivot area the scissors will not hold tension and they will bend and fold the hair when cutting. This is also why we do not recommend taking your scissors apart for any reason.
Conclusion
If your Hikari scissors are no longer performing like new after being sharpened by someone other than a Hikari technician, they were most likely not restored to the original factory specifications. In most cases, Hikari technicians can restore the damaged scissor to original specifications at an additional fee. Please note that corrective work requires extra time, so it may delay the regular service time of your scissor. Please call for details.
HKR/Hikari Scissor Factory, 16102 S. Western Ave., Gardena, CA 90247
(This is the ONLY Factory Authorized Service Center for Hikari Scissors in North America)
If you have any questions regarding corrective work or sending your scissors in for service please feel free to call
HKR/Hikari Scissor Factory directly at 310-538-1513.
You can also email them directly at service@hikariscissors.com
To access the service section on our website click here, and for Hikari care and maintenance click here.
You can also reach our Sales Department directly at 310-516-0350.
Email: info@hikariscissors.com  Website: www.hikariscissors.com