Hikari's Exclusive Five Finger Ergonomic Positioning System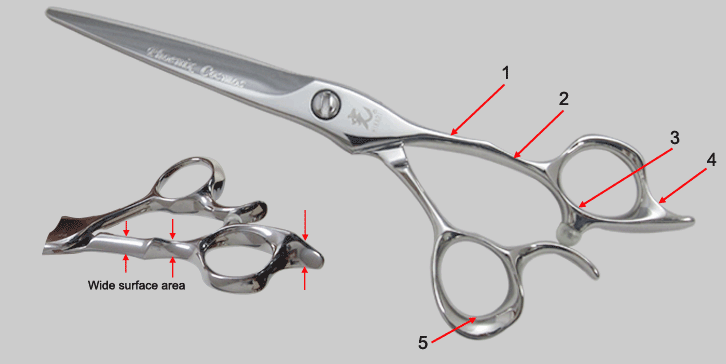 The exclusive Hikari five finger ergonomic positioning system incorporates a handle shank, ring finger hole and pinky rest that are all angled slightly down. The thumb hole is angled slightly up. Each finger surface is beautifully sculptured with a wide surface area. This keeps your fingers and thumb in the most relaxed and natural position. The unique handle truly fits like a glove and feels like an extension of your hand.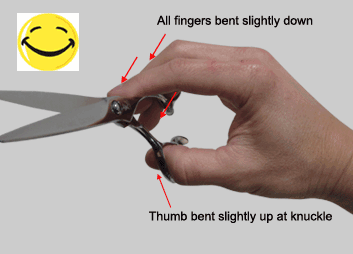 The most comfortable and stress free position for your hand is when all four fingers are bent slightly down and the thumb is bent slightly up. Keeping your thumb slightly bent at the knuckle is critical in avoiding stress to your thumb, hand, and wrist.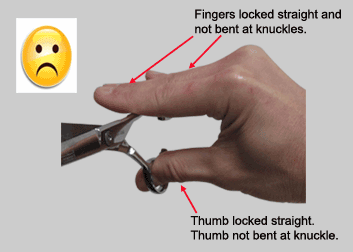 The Hikari five finger ergonomic positioning system is available on the following models:
Click here for payment plan options on our most popular EPS scissors.
Our Most Popular Scissor Phantom Cosmos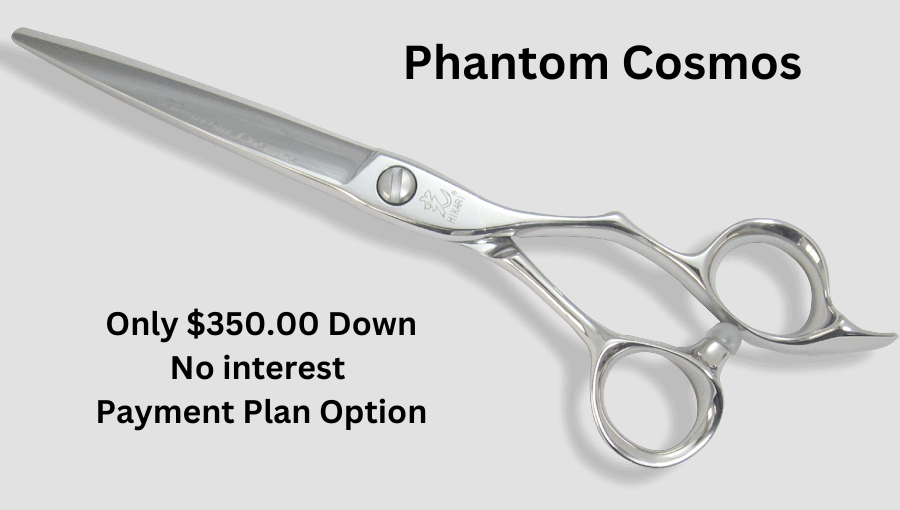 Our Most Popular Left-handed Scissor Lefty Phantom Cosmos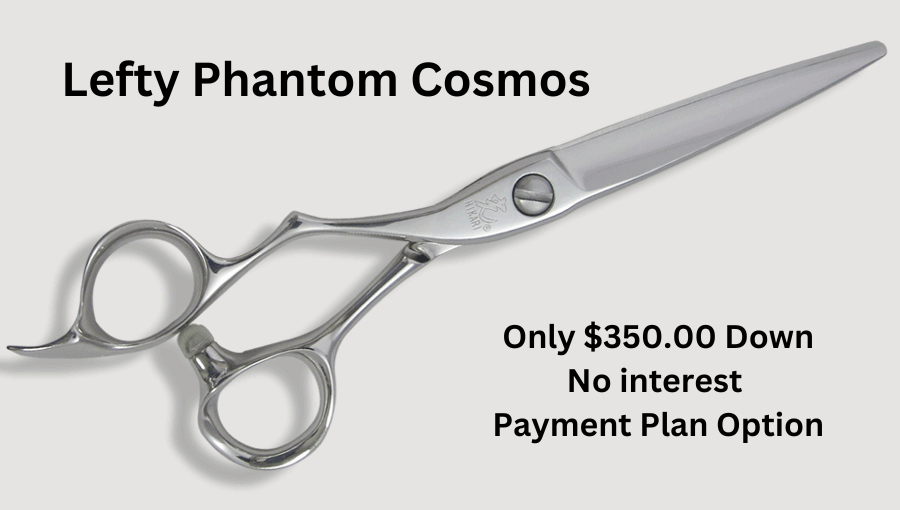 Comfortable and stress free, the Lefty Phantom Cosmos has the exclusive five finger ergonomic positioning system. EPS features a special sculptured handle shank that is wider than other scissors in order to provide optimum support for your hand and fingers. It's also perfectly angled for stress free control and comfort. Contoured funnel shaped finger holes are a perfect fit for small to medium sized fingers.
The 1st Rotational Ergonomic Positioning System Roto EPS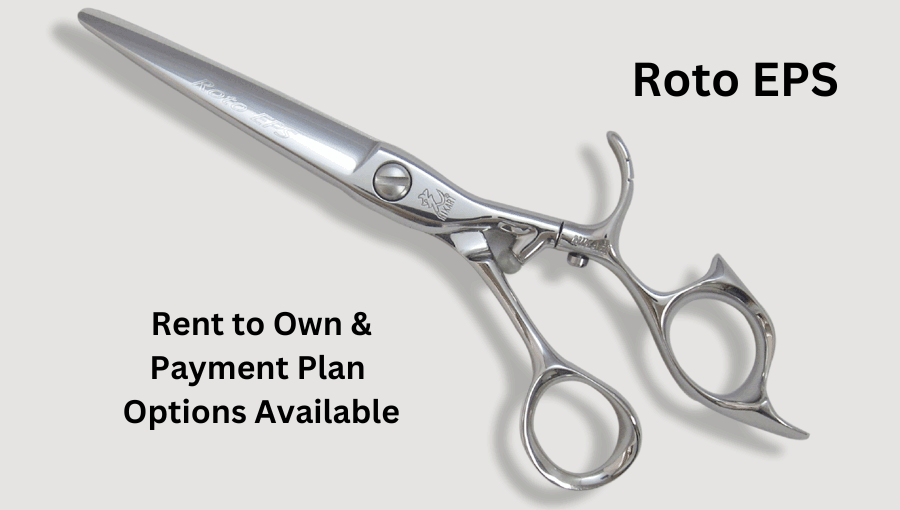 The Roto EPS is the 1st rotational ergonomic positioning system! Featuring Hikari's Exclusive Ergonomic Positioning System and a patent pending EPS Rotator that rotates 70 degrees at the handle shank. This allows you to position your fingers and hand at the exact angle for ultimate comfort. You no longer have to worry about moving your hand, wrist or elbow into an awkward position because you will have the freedom of movement without changing your grip or position. The unique design of the "Roto EPS" will also prevent you from applying Horizontal Thumb Pressure (HTP), and will prevent and alleviate repetitive motion and carpal tunnel syndrome. Roto EPS also features a patented EPS Stabilizer that provides added support, comfort and stability.
Roto EPS R60 (5.5"): Special Price: $1,270.00
Roto EPS R64 (6.0"): Special Price: $1,325.00
Great dry cutting performance in a lightweight, ergonomic design Spark Cosmos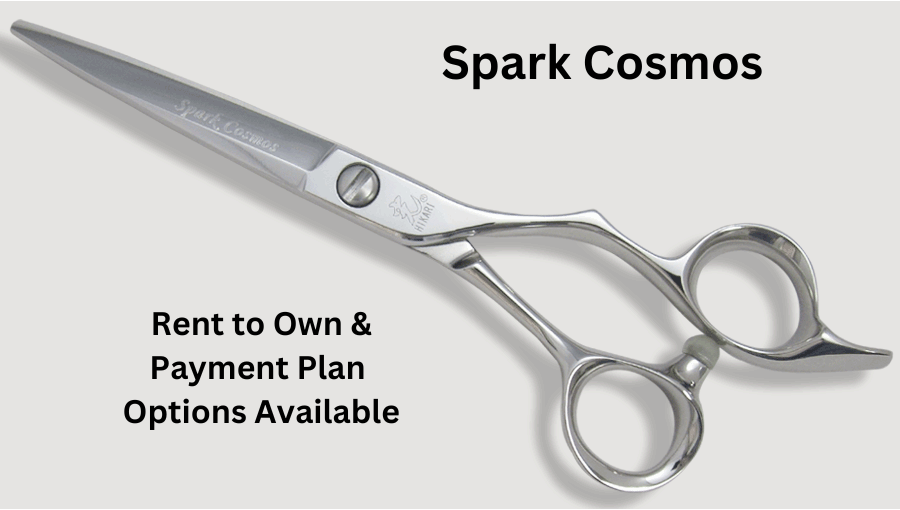 Larger, heavier and wider handles give the Phoenix Cosmos more power to cut through coarse hair.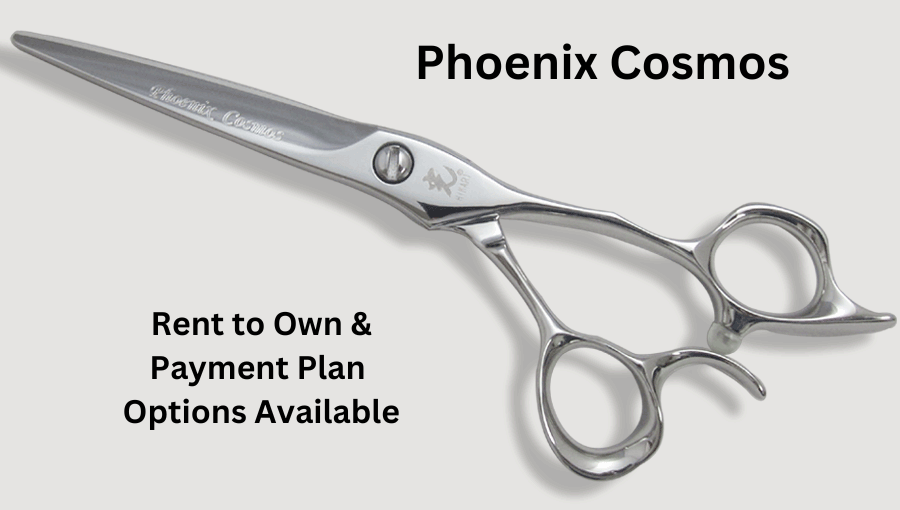 Unlike any other scissor manufacturer, Hikari is the only company that can truly look at a scissor from a stylist's point of view. Being founded by and still run by hairdressers, we have insight that no other company has. We have the first hand experience and genuine understanding of the true benefit a stylist can have from their tools. Utilizing that background with superior craftsmanship that is unmatched in the industry, Hikari has designed the five finger ergonomic positioning system.